A Gleaming Airstream Borrows Space-Saving Tips From Boat Design
After two years at sea with their family of five, a couple continues their tiny house lifestyle by renovating a rundown Airstream.
Having flipped 11 houses—and lived in all of them—in the span of a decade, Annie Jomphe and Martin Readman of Canada–based design/build firm Sitka Concept are used to getting their hands dirty to finish a job. So, when the couple discovered that a 1976 Airstream Land Yacht they purchased sight unseen was more run-down than anticipated, it wasn't enough to shake their resolve.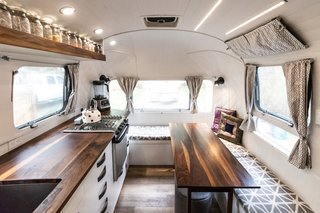 …